The Best Snowboarding Destinations for Backcountry and Off-Piste Riding
Written: editor | August 16, 2023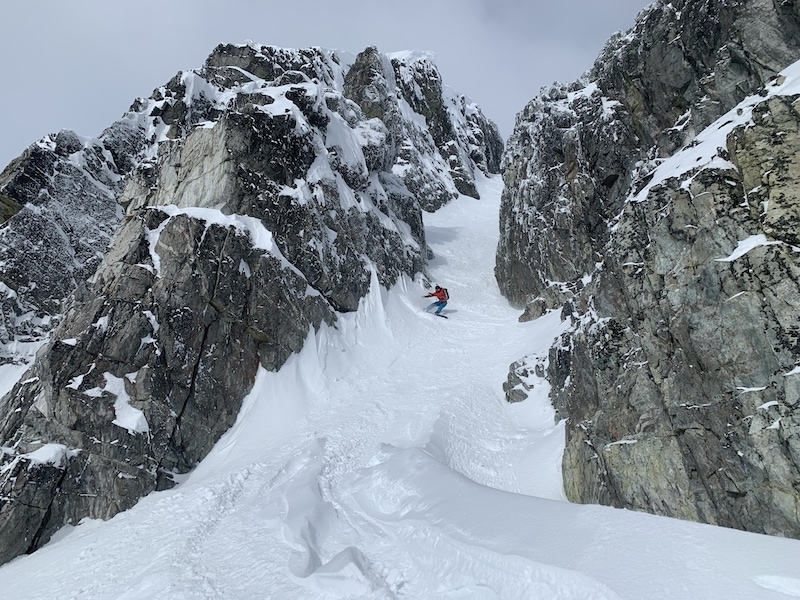 North America
Looking for the best snowboarding destinations in the backcountry? Look no further! North America offers some of the most epic snowboarding spots that will leave you awestruck. Here are some top picks that you shouldn't miss:
Whistler, Canada
Whistler is a dream destination for snowboarders. With over 8,000 acres of skiable terrain and an average annual snowfall of 11 meters, it's no wonder why it's often ranked as one of the best snowboarding destinations in the world. The vast backcountry offers endless opportunities for freeriding and exploring untouched powder. Plus, the stunning mountain views and vibrant village atmosphere make Whistler a favorite among snowboarders of all skill levels.
Jackson Hole, USA
Jackson Hole in Wyoming is known for its steep and challenging terrain, making it a paradise for advanced snowboarders seeking adrenaline-pumping rides. The backcountry here is vast and varied, with rugged chutes, wide-open bowls, and epic tree runs. If you're up for the challenge, head to Corbet's Couloir, one of the most famous and intimidating runs in the world. Jackson Hole also offers breathtaking scenery and a charming western town that will make your snowboarding experience unforgettable.
Lake Tahoe, USA
Lake Tahoe is a snowboarder's paradise with several world-class resorts and an abundance of backcountry terrain to explore. Whether you choose to ride at Heavenly, Squaw Valley, or Kirkwood, you'll be treated to stunning views of the deep blue lake and majestic mountains. The backcountry around Lake Tahoe offers a diverse range of terrain, from expansive powder fields to steep chutes and glades. With an average snowfall of over 9 meters, you can always count on great conditions for your snowboarding adventures.
So grab your board and get ready for an unforgettable backcountry snowboarding experience in North America!
Europe
Chamonix, France
If you are a snowboarding enthusiast seeking an unforgettable backcountry experience, Chamonix, France should be on your list. Located in the picturesque French Alps, Chamonix offers breathtaking scenery and a wide range of challenging terrain for backcountry riders. With an extensive lift system and access to renowned off-piste areas such as the Vallée Blanche glacier, you can immerse yourself in the beauty of nature while enjoying exhilarating descents.
Verbier, Switzerland
Known as one of the top destinations for advanced snowboarders, Verbier, Switzerland is a haven for backcountry enthusiasts. With its vast and diverse terrain, Verbier offers endless opportunities for off-piste adventures. The area is home to the famous Mont Fort, a challenging peak that guarantees adrenaline-pumping descents. The resort also provides easy access to the vast Four Valleys ski area, making it an ideal base for exploring the backcountry.
Arlberg, Austria
For snowboarders looking for a mix of challenging backcountry terrain and charming Alpine villages, Arlberg, Austria is the place to be. With its deep powder and vast off-piste opportunities, Arlberg attracts experienced riders seeking thrilling descents. The region is known for its high snowfall and offers a wide range of backcountry routes, including the iconic White Ring, a spectacular off-piste circuit connecting Lech, Zürs, and other resorts.
So, whether you're a seasoned backcountry rider or looking to take your snowboarding skills to the next level, these European destinations offer incredible backcountry experiences. Remember to always prioritize safety and be well-prepared before venturing into the backcountry, as it can be challenging and potentially dangerous. Enjoy your snowboarding adventures and make unforgettable memories in these breathtaking locations.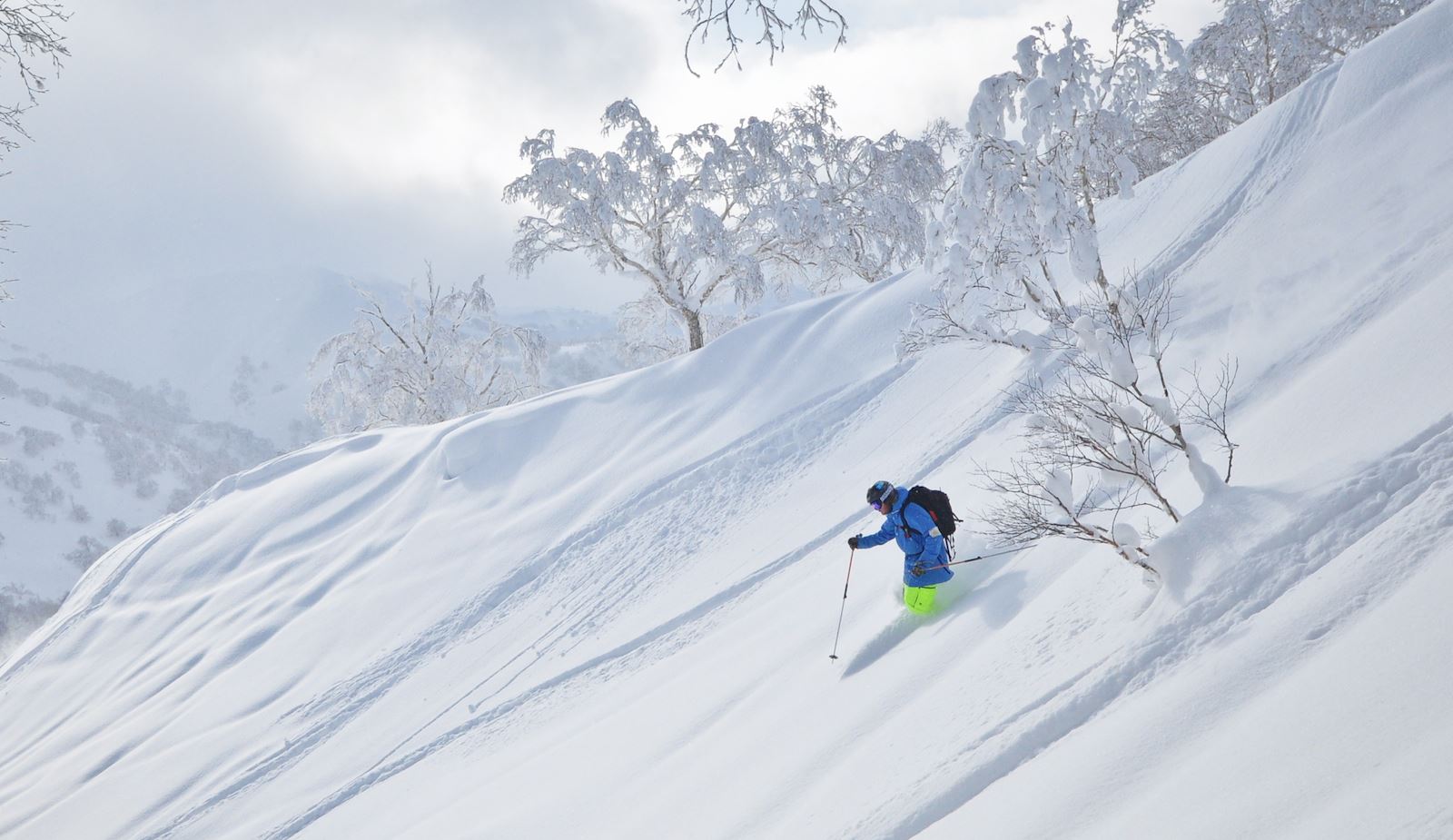 Asia
If you're a snowboarding enthusiast looking for some adrenaline-pumping adventures in untouched powder, then Asia might be the perfect destination for you. With stunning backcountry terrains and breathtaking landscapes, here are two of the best snowboarding destinations in Asia that should be on your bucket list.
Niseko, Japan
Nestled in the northern part of the island of Hokkaido, Niseko is a paradise for snowboarders. Known for its incredible powder snow and abundant snowfall, it has gained a reputation as one of the top winter sports destinations in the world. The vast backcountry areas surrounding Niseko offer diverse terrains, ranging from gentle slopes for beginners to challenging steep slopes for advanced riders. Whether you prefer riding through meticulously groomed runs or exploring off-piste adventures, Niseko has something for everyone. Moreover, the stunning views of Mount Yotei and the picturesque villages add to the overall charm of this snowboarding mecca.
Gulmarg, India
Located in the Indian state of Jammu and Kashmir, Gulmarg is a snowboarding haven in the Himalayas. With its majestic peaks, untouched slopes, and stunning views of the surrounding mountains, Gulmarg offers a unique snowboarding experience. The backcountry here is renowned for its deep powder snow and a wide variety of terrain options, including open bowls, steep chutes, and gladed runs. Adventure seekers can access the high-altitude terrain through the Gulmarg Gondola, one of the highest cable car systems in the world. Beyond the thrilling snowboarding opportunities, visitors can immerse themselves in the rich Kashmiri culture and hospitality, making Gulmarg a truly unforgettable destination.
Whether you choose to carve your way down the slopes of Niseko or conquer the challenging backcountry of Gulmarg, these snowboarding destinations in Asia promise an unforgettable experience filled with adventure and natural beauty. Strap on your snowboard, embrace the thrill, and get ready to create lifelong memories in these winter wonderlands.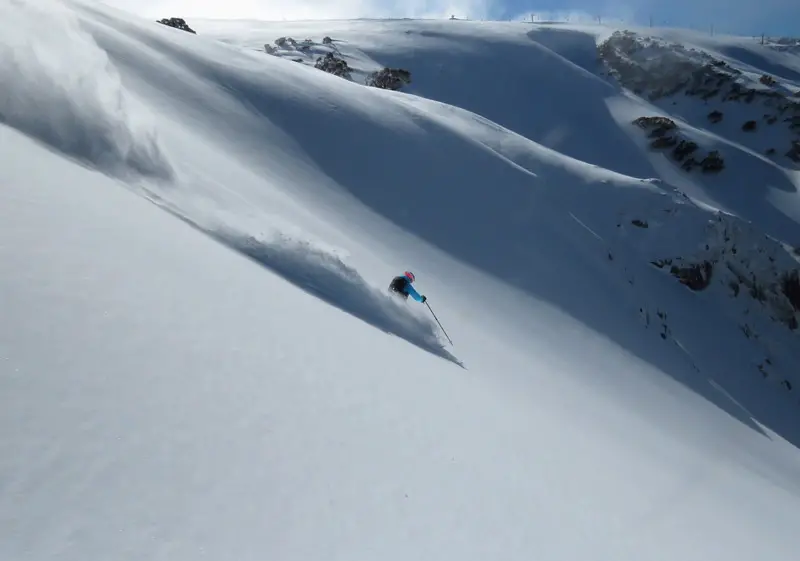 Oceania
Mount Hotham, Australia
When it comes to snowboarding destinations, Mount Hotham in Australia is a must-visit. This stunning backcountry location offers breathtaking panoramic views and a wide range of terrain for all skill levels. Whether you're a beginner or an advanced snowboarder, you'll find something to suit your needs here.
Mount Hotham boasts over 320 hectares of skiable terrain, with plenty of untouched snow and challenging slopes. It's known for its steep and deep terrain, making it a paradise for off-piste snowboarding. The backcountry here offers endless opportunities for exploration and adventure.
In addition to the fantastic snowboarding opportunities, Mount Hotham also offers a vibrant après-ski scene. After a day on the slopes, you can relax and unwind at one of the many bars and restaurants in the village.
Queenstown, New Zealand
Another top snowboarding destination in Oceania is Queenstown, New Zealand. Nestled in the Southern Alps, this picturesque town is surrounded by stunning mountains and offers some of the best backcountry snowboarding in the world.
Queenstown is home to four world-class ski resorts, each with its own unique terrain and features. From the challenging slopes of Remarkables to the wide open runs of Coronet Peak, there's something for everyone here.
Beyond the ski resorts, Queenstown is a vibrant and lively town with a bustling nightlife and plenty of adventure activities to keep you entertained off the slopes. Whether you're looking to try bungee jumping, skydiving, or exploring the beautiful nearby fjords, Queenstown has it all.
In conclusion, if you're looking for the best snowboarding destinations in the Oceania region, Mount Hotham in Australia and Queenstown in New Zealand should be at the top of your list. With their stunning landscapes, diverse terrain, and vibrant atmospheres, these locations offer unforgettable snowboarding experiences for every level of rider. So grab your board and get ready for an epic adventure
South America
Looking for the best snowboarding destinations for some exhilarating backcountry adventures? Look no further than South America! Here are two top destinations that will satisfy your snowboarding cravings.
Valle Nevado, Chile
Nestled in the breathtaking Andes Mountains, Valle Nevado offers some of the best backcountry snowboarding experiences in South America. With vast untouched terrain, steep slopes, and epic powder, this destination is a dream come true for snowboarders seeking adrenaline-pumping descents. Valle Nevado also boasts a state-of-the-art lift system and modern facilities, ensuring a comfortable and convenient snowboarding experience. Don't miss the opportunity to explore the incredible backcountry of Chile at Valle Nevado!
Las Lenas, Argentina
Located in the Argentinean Andes, Las Lenas is renowned for its challenging and diverse backcountry terrain. From steep chutes to open bowls, this destination offers something for every level of expertise. Advanced riders will particularly enjoy the incredible off-piste opportunities and jaw-dropping descents. Las Lenas also offers easy access to heli-skiing and snowcat rides for those seeking an even more exhilarating experience. With its stunning scenery and thrilling slopes, Las Lenas should definitely be on your snowboarding bucket list.
So, why not head to South America for unforgettable backcountry snowboarding? Valle Nevado in Chile and Las Lenas in Argentina await you with their incredible scenery, diverse terrain, and thrilling descents. Get ready for an adventure you'll never forget!
Safety Tips for Backcountry Snowboarding
So you're an adventurous snowboarder looking to take on the backcountry. While it can be an exhilarating experience, it's crucial to prioritize safety. Here are some essential tips to ensure a safe and enjoyable snowboarding adventure.
Avalanche Preparedness
One of the most significant risks in the backcountry is avalanches. Having the knowledge and skills to assess avalanche conditions is essential. Invest in an avalanche safety course and carry the necessary equipment, such as an avalanche transceiver, shovel, and probe. Remember, it's always better to be over-prepared than underprepared when it comes to avalanches.
Knowledge of Local Terrain and Weather Conditions
Understanding the local terrain and weather conditions is crucial for backcountry snowboarding. Study maps, gather information from local experts, and check weather forecasts before heading out. Familiarize yourself with potential hazards like cliffs, tree wells, or hidden obstacles that can make backcountry snowboarding risky.
Proper Equipment and Gear
Using the right equipment and gear can make a significant difference in your safety. Invest in a quality backcountry snowboard, bindings, and boots suitable for off-piste conditions. Make sure your gear is well-maintained and regularly inspected. Additionally, consider carrying essential safety gear like a first aid kit, extra layers for changing weather, and a communication device.
Remember, backcountry snowboarding carries inherent risks, and it's crucial to make safety your top priority. Stay informed, be prepared, and always use your judgment when venturing into uncontrolled terrain. With the right precautions, you can enjoy the thrill of backcountry snowboarding while minimizing potential dangers.
Resource:
For more detailed information on backcountry safety and avalanche awareness, you can check out this helpful resource: https://en.wikipedia.org/wiki/Avalanche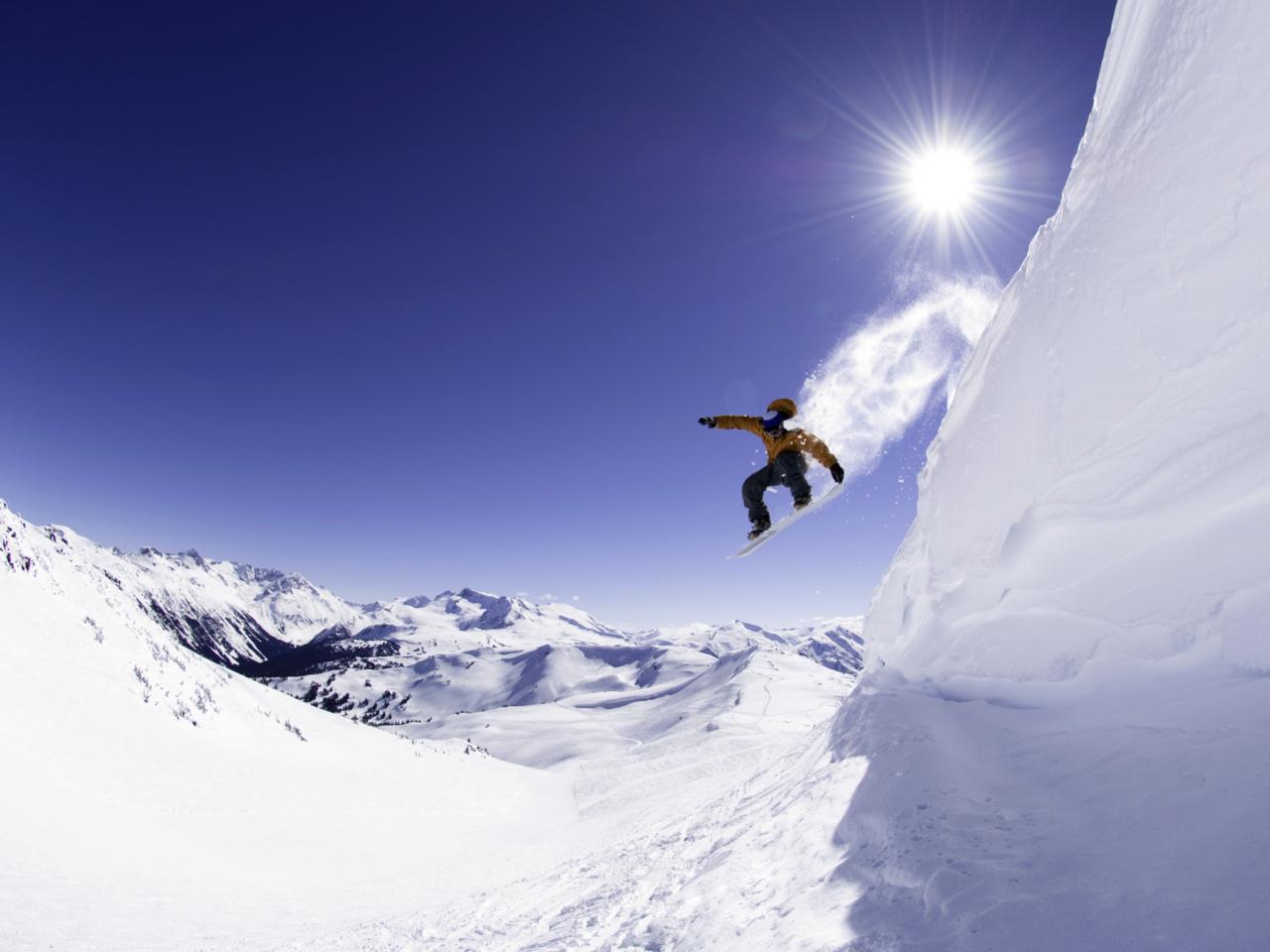 Conclusion
If you are an avid snowboarder looking for an unforgettable adventure, you can't go wrong with backcountry snowboarding. The thrill of carving your way through untouched powder and exploring breathtaking landscapes is unparalleled. Whether you're a beginner or an expert, there are destinations suited to your skill level and preferences.
Summary of the best backcountry snowboarding destinations
Colorado's Rocky Mountains: With world-class resorts and vast backcountry options, Colorado offers a diverse range of terrain and breathtaking views.

British Columbia's Coast Mountains: Known for its legendary snowfall and stunning scenery, British Columbia is a backcountry paradise for snowboarders.

Alaska's Chugach Range: For experienced riders seeking extreme terrain and massive powder, Alaska's Chugach Range is a bucket-list destination.

Switzerland's Alps: Home to iconic peaks and picturesque villages, the Swiss Alps offer some of the most breathtaking backcountry snowboarding experiences in the world.
Personal recommendations based on skill level and preferences.
For beginners: Start with Colorado's Rocky Mountains, where you'll find well-maintained trails, supportive communities, and reputable instructors.
For intermediate riders: British Columbia's Coast Mountains will provide plenty of challenging terrain, along with stunning views and the opportunity to explore heli-accessible backcountry.
For advanced riders: Push your limits in Alaska's Chugach Range, where you'll find steep slopes, massive powder fields, and a sense of adventure like no other.
For those seeking picturesque beauty: Explore the Swiss Alps, where you'll be surrounded by majestic peaks, charming alpine villages, and world-class resorts.
Remember, backcountry snowboarding requires proper preparation and safety measures. Always check local weather conditions, carry essential gear, and consider hiring a guide if you're unfamiliar with the area. Get ready for an incredible ride and unforgettable memories in the backcountry!