The Best Ski Resorts for Beginners
Written: editor | April 17, 2023
Best ski resorts for beginners in North America
1. Aspen Snowmass, Colorado
If you're a beginner looking to hit the slopes, Aspen Snowmass in Colorado is an excellent choice. With four mountains to choose from and over 5,500 acres of skiable terrain, beginners will have plenty of options to practice their skills. The resort also boasts a top-notch ski school with experienced instructors who specialize in teaching beginners. They offer group and private lessons to help you build your confidence and become a skilled skier.
2. Park City Mountain Resort, Utah
Park City Mountain Resort in Utah is another great option for beginners. The resort offers a wide range of diverse terrain, making it suitable for skiers of all skill levels. Beginners can start on the gentle slopes and work their way up to more challenging runs as they progress. The resort also has a dedicated learning area, where beginners can practice their skills in a safe and controlled environment. Lessons are available for all ages and skill levels, ensuring that everyone can learn at their own pace.
3. Whistler Blackcomb, British Columbia
For those looking for a ski resort with extensive beginner slopes, Whistler Blackcomb in British Columbia is a perfect choice. The resort has over 8,000 acres of skiable terrain, with a dedicated learning area specifically designed for beginners. The gentle slopes and wide terrain make it easy for beginners to learn and progress. The resort also offers beginner ski and snowboard lessons, taught by experienced instructors who focus on building strong foundational skills.
In addition to these top ski resorts for beginners, it's important to remember a few key tips. First, always make sure to wear proper protective gear, including a helmet. Safety should be a top priority when hitting the slopes. Second, take it slow and don't be afraid to ask for help. Skiing and snowboarding can be challenging at first, but with practice and guidance, you'll improve over time. Lastly, don't forget to have fun! Skiing is a great way to enjoy the outdoors and experience the thrill of gliding down the mountain.
Whether you choose Aspen Snowmass, Park City Mountain Resort, or Whistler Blackcomb, these ski resorts offer excellent opportunities for beginners to learn and progress. With their beginner-friendly slopes, dedicated learning areas, and experienced instructors, you'll be well on your way to becoming a confident and skilled skier. So grab your gear and hit the slopes – your next adventure awaits!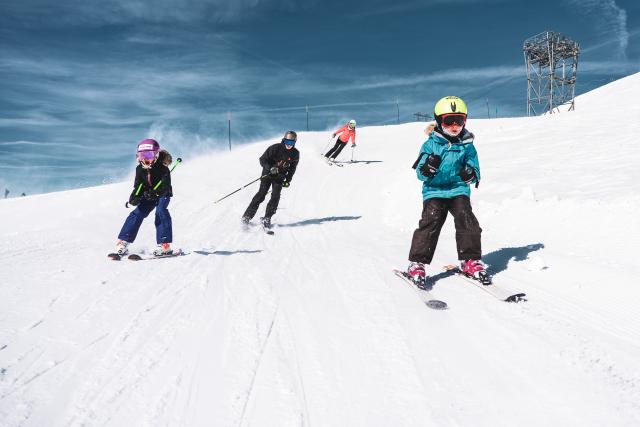 Best ski resorts for beginners in Europe
Skiing is not only a thrilling sport but also a fantastic way to enjoy the winter season. If you're a beginner looking for a memorable skiing experience, Europe offers some of the best ski resorts perfectly suited for your skill level. Here are three top recommendations for beginners:
1. Les Deux Alpes, France
Les Deux Alpes is renowned for its purpose-built beginner areas and gentle slopes, making it an ideal ski resort for those just starting out. The resort boasts an impressive range of green and blue runs, ensuring beginners have plenty of options to practice and improve their skills. Additionally, Les Deux Alpes offers excellent ski schools with experienced instructors who specialize in teaching beginners. These instructors can guide you through the basics of skiing and help build your confidence on the slopes.
2. Saalbach-Hinterglemm, Austria
Saalbach-Hinterglemm in Austria is another fantastic ski resort for beginners. The resort offers a wide range of gentle slopes that are perfect for those who are new to skiing. The interconnected ski area provides options for beginners to gradually progress to more challenging slopes as they gain confidence and experience. Ski schools in Saalbach-Hinterglemm are known for their patient and friendly instructors who can help beginners feel comfortable on the slopes and offer valuable guidance throughout their skiing journey.
3. Cortina d'Ampezzo, Italy
Cortina d'Ampezzo in Italy is not only known for its stunning scenery but also for its beginner-friendly slopes. The resort offers a variety of gentle and wide slopes suited for beginners to practice and enjoy skiing at a leisurely pace. The laid-back atmosphere and picturesque surroundings make Cortina d'Ampezzo an ideal destination for beginners looking to combine skiing with a relaxing holiday. Ski schools in the area provide excellent instruction tailored to beginners' needs, ensuring a safe and enjoyable skiing experience.
When choosing a ski resort as a beginner, it's crucial to consider factors such as reliable ski schools, beginner-friendly slopes, and overall accessibility. These three resorts offer all these features and more, ensuring that beginners have a positive and unforgettable skiing experience. Remember to always prioritize safety, wear appropriate gear, and follow the instructions of experienced instructors to make the most of your time on the slopes.
Whether you choose Les Deux Alpes, Saalbach-Hinterglemm, or Cortina d'Ampezzo, rest assured that Europe has some of the best ski resorts for beginners. Embrace the opportunity to learn a new skill, surrounded by stunning alpine landscapes, and create lasting memories on the slopes. So, grab your skis and get ready for an unforgettable adventure!
Ski resorts for beginners in other parts of the world
1. Niseko, Japan
If you're looking for a top-notch ski resort that caters to beginners, Niseko in Japan is a great choice. Known for its powder snow and beginner-friendly slopes, this resort provides a safe and enjoyable experience for those just starting out on the slopes. Niseko offers excellent ski schools and a variety of lessons tailored to beginners, making it an ideal destination for learning the basics and mastering your skills.
2. Falls Creek, Australia
For those in the southern hemisphere, Falls Creek in Australia is a fantastic option for beginner skiers. This resort boasts great ski schools and guided beginner programs that cater to all ages and abilities. The instructors are experienced and patient, ensuring that beginners feel comfortable and confident on the slopes. Falls Creek also offers a range of beginner-friendly terrain and gentle slopes, making it the perfect place to learn and progress.
3. Portillo, Chile
If you're looking for a smaller, more intimate resort experience, Portillo in Chile is the perfect choice for beginners. This charming resort offers a welcoming atmosphere and a relaxed environment for those new to skiing. With a variety of easy slopes and dedicated beginner areas, Portillo provides a stress-free environment to practice your skills. The instructors are friendly and knowledgeable, ensuring that beginners receive the guidance they need to progress.
No matter where you choose to ski, it's important to remember that starting out as a beginner can be challenging but also incredibly rewarding. It's essential to take lessons and receive proper instruction to ensure your safety and enjoyment on the slopes. Ski resorts that cater to beginners understand this and provide the necessary resources to help you learn and improve.
By choosing a ski resort that specifically caters to beginners, you'll have access to appropriate terrain, patient instructors, and a supportive environment. This will allow you to learn at your own pace and build confidence as you progress. Whether you're seeking an international adventure or a local getaway, there are ski resorts around the world that are perfect for beginners.
Remember, skiing is not only a great way to stay active and enjoy the outdoors, but it also presents an opportunity to challenge yourself and learn new skills. So, grab your skis, embrace the thrill of the slopes, and enjoy the experience of skiing for the first time.
Selecting the Best Ski Resort for Beginners based on Preferences and Needs
As a beginner skier, choosing the right ski resort can greatly impact your overall experience on the slopes. With so many options available, it's important to consider your preferences and needs to ensure a fun and enjoyable ski trip. Here are some key factors to consider when selecting the best ski resort for beginners.
Location
The location of the ski resort plays a significant role in your overall experience. Consider whether you prefer a resort near a major city or one tucked away in a picturesque mountainous region. Additionally, think about the travel logistics and accessibility of the resort. Is it easy to get to? Are there convenient transportation options available?
Terrain
For beginners, it's crucial to choose a ski resort with suitable terrain for learning. Look for resorts that offer gentle slopes and designated beginner areas. These areas typically feature wide and forgiving slopes, ideal for practicing basic skiing techniques. It's also helpful to choose a resort with a ski school that offers lessons specifically tailored for beginners.
Facilities and Amenities
Consider the facilities and amenities available at the ski resort. Does it offer rental equipment? Are there dining options, accommodations, and après-ski activities? Beginners often benefit from resorts that have well-equipped ski schools and experienced instructors who can provide guidance and support throughout the learning process.
Family-Friendly Resorts
For those skiing with family or friends, it's important to choose a resort that caters to all levels of skiing abilities. Look for resorts that have kid-friendly slopes and activities, as well as childcare services, if needed. It's also beneficial to choose a resort with a range of non-skiing activities to keep everyone entertained.
Safety Measures
Safety should always be a top priority when skiing, especially for beginners. Make sure the resort has well-maintained slopes and clear signage for different levels of difficulty. Additionally, check if the resort has a patrol team and medical facilities on-site in case of any emergencies.
Reviews and Recommendations
Before making a decision, it's helpful to read reviews and seek recommendations from fellow ski enthusiasts. Look for resorts that have a positive reputation for their beginner-friendly facilities, excellent service, and overall skiing experience. Online forums and travel websites often provide valuable insights from experienced skiers.
In conclusion, selecting the best ski resort for beginners involves considering factors such as location, terrain, facilities, family-friendliness, safety measures, and reviews. By carefully assessing your preferences and needs, you can ensure a memorable and enjoyable skiing experience as a beginner. So, lace up your boots, hit the slopes, and have a fantastic time exploring the snowy wonderland!